At Filmsupply, we believe the moving picture is a tool of impossible power. And when the edit clicks and everything just feels right—that's the moment. This belief is the foundation of Editfest, Filmsupply's annual 30-day editing competition. Participants cut and submit an edit for a chance to split $65K in prizes and feedback from respected industry creatives.
All of the information you need to compete is in the free starter kit, but while you're here, let's take quick look at this year's competition.
How to Compete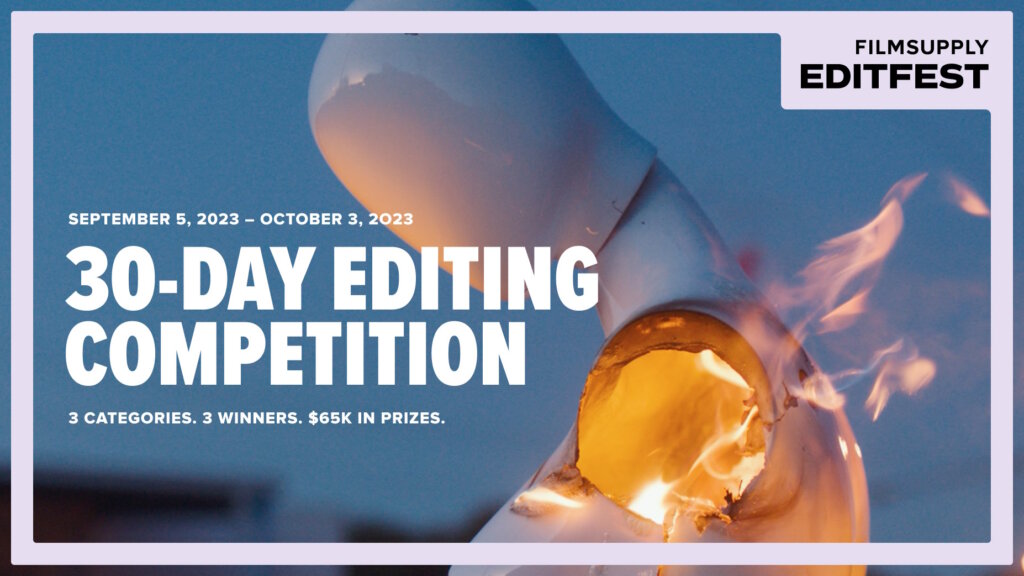 Editfest provides editors a chance to break through creatively and showcase their craft. Here's a brief rundown of how it works.
Choose Your Category
You have three spec-piece categories to choose from: Title Sequence, Advertisement, or Movie Trailer. Get creative—we won't accept edits created for existing real-world brands, movies, or TV shows.
Create Your Edit
Download the free Starter Kit for access to assets from the Filmsupply footage library. Our sister-brand Musicbed has also made a selection of music available for submissions. Next, create an edit that showcases your creativity and craft.
Submit To Win
Participants have 30 days to submit and the top prize in each category will win a prize pack of creative tools and assets.
This Year's Prizes
Editfest winners will split over $65K in prizes. Here's what's up for grabs:
Category Winners:
$10,000 Filmsupply Grant
$2,000 Filmsupply Credit
$2,000 Musicbed Credit
Complete ACIDBITE Acid Collection
FilmConvert Nitrate
1 Year of Boris FX Suite
WeTransfer Premium Membership
1 Year of Saturation.io Production Membership
People's Choice:
2,000 Musicbed Credit
$2,000 Filmsupply Credit
Complete ACIDBITE 
Acid Collection
FilmConvert Cinematch
1 Year of Boris FX Suite
WeTransfer Premium Membership
1 Year of Saturation.io Production Membership
Editfest 2023 Judges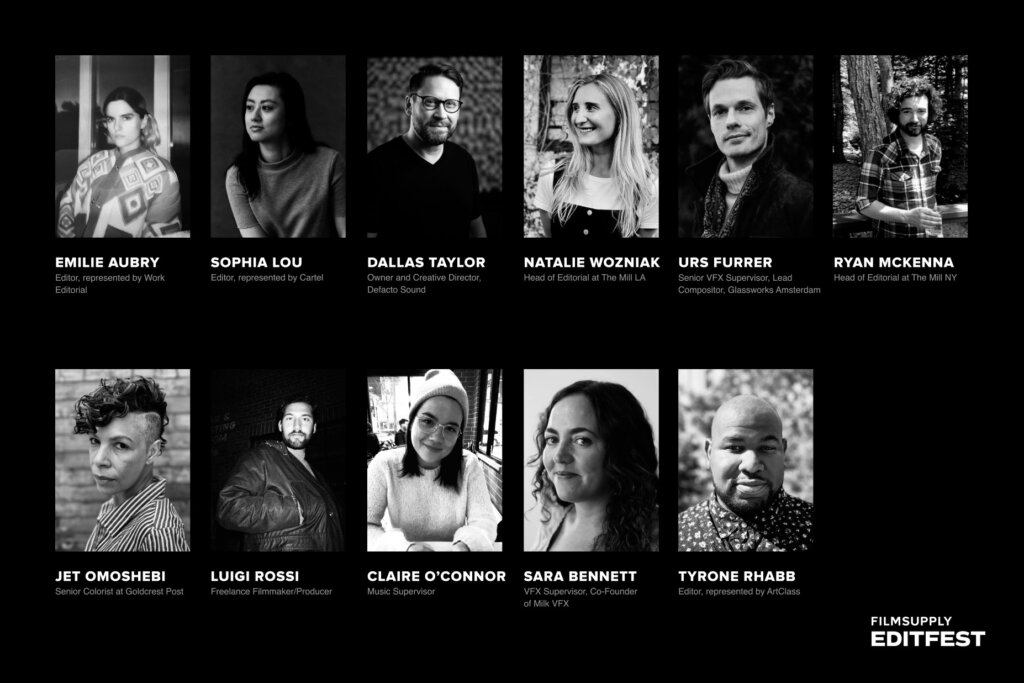 This year's panel of judges will score edits based on the following criteria: Concept, Storytelling, Emotion, and Technicals. A quick rundown of the industry leaders judging this year's submissions and giving personal feedback to the winners:
Emilie Aubry—Editor, represented by Work Editorial (Nike, Spotify, Beats, adidas)
Sophia Lou—Editor, represented by Cartel (The Farmer's Dog, Smartwater, Ford)
Dallas Taylor—Owner and Creative Director, Defacto Sound (Alfa Romeo, Puma, HBO, Netflix)
Natalie Wozniak—Head of Editorial at The Mill LA (Lays, BMW, Pepsi)
Urs Furrer—Senior VFS Supervisor, Lead Compositor, Glassworks Amsterdam (Apple, Toyota, Xbox)
Ryan McKenna—Head of Editorial at The Mill NY (LEXUS, Budweiser, Microsoft)
Jet Omoshebi—Senior Colorist at Goldcrest Post (The Witcher, Underworld, White Noise)
Luigi Rossi—Freelance Filmmaker/Producer (Samsung, Bank of America, Air Jordan)
Claire O'Connor—Music Supervisor (Extra, Starbucks Baya)
Sara Bennett—VFX Supervisor, Co-founder of Milk VFX (Ex-Machina, Sherlock, Doctor Who)
Tyrone Rhabb—Editor, represented by ArtClass (Fitbit, ESPN, Red Bull)
Key Dates in 2023
Submissions open September 5 and close October 3.
Voting for People's Choice will run from October 10 through October 20.
Category winners will be announced October 30.
Note: All submission deadlines are 12:00 pm CST.
To learn more, download the free Starter Kit. Good luck!